How to Buy an Old Truck
Part 1 of a Series
by Bob Adler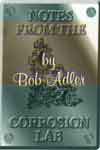 Most people purchase an old truck with the goal of driving it. The finished product can be factory stock restoration, slightly modified, or radically modified and within each category the truck can be built to any degree of perfection. Some are working trucks, showing their battle scars and others reach retirement never to haul again. All of these are economic decisions and it is best to think them through thoroughly before spending your hard-earned money.

Initial Purchase Decision
Have clear goals in mind before shopping for a truck. Do we buy a truck, then decide what to do with it, or list our goals, then shop for the vehicle? Too many times people buy a truck because "the price is right" or "it would look cute with just a coat of paint."
Forget serendipity and use real market research. Are critical parts missing? How much sheet metal needs replacing or skilled refabricating? How much work can you do yourself and how much will be contracted out? Do you have enough time, energy, and money to complete the job? Do you want a working truck or a Sunday pleasure vehicle only?
A perfect canidate for factory authentic restoration...
Some truckers want to keep history alive. They tend toward stock restoration, but are becoming a distinct minority. In my opinion, original postwar trucks are still capable of doing their intended job, although at a somewhat slower pace than a new truck. There is a certain elegance in using the original factory engineering to create a cohesive, running, working vehicle.
Also consider prewar trucks as rare and prime candidates for authentic factory stock restoration. Lower production trucks, sometimes called orphans, are also worthy of stock restoration since so few are available. Mack Junior, Plymouth, Studebaker, and International are a few examples. So many modified and misrestored trucks are now being sold, it is getting hard to figure out exactly how they were originally built. We need a few stock examples to show our children the vehicles our parents used.
Stock vs. Modified
If stock restoration is the goal, it is best to start with a complete truck in which major components are useable or repairable. Even minor components may be impossible to find later, so it is best to find a truck with everything still attached. Bringing an expert along to inspect the truck for correct components might be a good idea, although now everyone has different opinions on what was original. Club technical advisors and factory literature are good sources to settle these debates. (See "Notes from the Corrosion Lab: Restoration Sourcebooks" in the July/August 1999 issue of This Old Truck.)
If you are customizing, drivetrain integrity is less important, as that is usually updated. With radical custom work, there is even less need for finding a complete truck as most old components are changed for newer. But as we increase the number of non-factory components, we are creating our own engineering. For example, if we double or triple the original horsepower, what do we have to do to the rear axle to accommodate the added torque? What about stopping and steering? Will changes maintain integrity or create a Frankenstein whose components are no longer properly sized for one another?
If you plan to carry a load, you must consider that stock engineering works with an empty truck and with a full load. This is a wider weight spread than passenger cars need to handle. Radical customs seem to be for show only, not for useful hauling.
Most people will buy a Ford, Chevy, or Dodge. Mechanical parts for these are readily available going back about 50 years. Earlier than that, mechanical parts can be found but it will take some hunting. Body parts are another story. Good sheet metal is hard to find and commands a high price. Smaller parts for the common makes are being reproduced, notably rust repair panels. But manufacturing large steel panels such as fenders requires a huge tooling investment, and reproductions in steel won't be made unless there is an equally huge demand. Fiberglass fenders and other large panels are much less expensive to manufacture and are listed in many supplier catalogs.
For better or for worse, many trucks sold now are already updated. If stock restoration is the goal, you may need to locate original year components. Typically, Chevrolet trucks from 1937 to 1953 came with 216ci 6-cylinder engines When these were working trucks, it was cheaper to replace a worn-out engine with a 1954-1962 235ci engine than to rebuild the original 216. The engines are an easy swap and the only modification needed is shortening the water pump shaft or moving the radiator forward. Someone doing a mostly stock restoration might consider leaving this modification in, as the truck is more driveable with the 235, which has a higher compression ratio and more horsepower.
Similar updates were done to Ford and Dodge during the years they used a flathead engine. Major truck components have casting numbers and many have casting dates. Factory literature and the Hollander Interchange Manual tell what was original as well as what fits.
For trucks with more comprehensive modifications, we could get in deeper trouble. What about an early truck with a current Chevy 350 V-8 engine installed? Structural welding would be needed for this installation as pre1955 Chevrolets only came with straight-six engines. The modification could be well engineered or barely hanging together. Was a store-bought installation kit used or did the installer use scrap metal to fabricate the mounts? Undoing bad work is always harder than starting with a sound foundation. (Wait till we get to bodywork!) Do welds look good? Are fasteners adequately sized? Are bolts at least grade 5 (three radial lines on head), or an even stronger grade 8 (six radial lines)? If the truck is driveable, does it function well on the road? If it?s not driveable, it might have poor engineering or the seller may be hiding something significant.
Figuring out the Price
Here's where we get into trouble. There are price guides, but I avoid them. Sellers frequently think their trucks are in better condition than they really are. If the truck is not driveable, assume it needs complete drivetrain work. If a test drive is possible, go for a long ride. Make a list of things that work and items that need repair. Estimate costs in the repair column and remember they can vary for repair, replacement with original, or an update. For example, the brakes may stop the truck on a test drive, but later you could discover leaky wheel cylinders and worn out drums, as well as the rusty hydraulic lines you found on initial inspection.
Is the transmission whine due to straight cut gears or is the transmission overdue for major surgery? The repair or replacement costs add up fast. In an ideal world you could list your truck budget, subtract estimated repair costs, and arrive at the allowable purchase price. In reality, this would frequently, if not always, generate a negative number.
Want ads in hobby publications list asking prices, which may be grossly inflated. Other sellers have realistic posted prices. Sellers frequently do not know much about their trucks. "Is this engine original?" you might ask. But, it is up to the buyer to answer that, not the seller.
Decoding the numbers on major components can confirm or correct whatever the seller says. Is there a documented maintenance history? A glove box full of repair receipts is much better than the owner saying the engine was overhauled a couple of years ago. This is important for modified trucks as it can be a real challenge to figure out what replacement parts to order for normal maintenance.
You may also need to rewrite your own shop manual to include modifications. I once replaced a clutch on a 1951 Chevy half-ton which had been updated with a 250 6-cylinder engine. After removing the transmission, I discovered it was impossible to get the old clutch out without lifting the engine a few inches. That increased the price of labor considerably for a usually-routine job. I also tried to find a clutch disc, cover, and throw-out bearing combination that could be installed without lifting the engine. No luck there!
Bob Adler is owner of Adler's Antique
Autos, Stephentown, New York, and
specializes in GM truck restoration.
He can be reached at 518-733-5749.
Email