How to Buy an Old Truck
Part 3 of a Series
by Bob Adler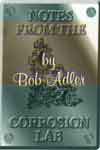 Always ask to see the paperwork during a truck inspection before you get too enthusiastic about spending a bundle of money on an old truck. If it's missing or incorrect, the owner may be unwilling or unable to reconstruct the paper documentation needed to register the truck for highway use after it is sold.
If the truck is currently registered with license plates and appropriate stickers, the owner should be able to produce a title or transferable registration. Look for liens on the title. A lien indicates money is owed on the truck, and it can't be sold without the lender's authorization. A title usually has spaces for a lien holder's name and address. If there is a lien on the title, a new owner will need an official letter from the lender stating that the lien has been paid off.
Make sure the vehicle's identification number matches the number on its paperwork or you will have a major problem trying to register it. Frequently old trucks were registered by the engine number, but engines can be changed, leaving no real evidence of ownership. If the paperwork lists only an engine number, verify that engine is still in the truck. In New York the Department of Motor Vehicles requests a rubbing of the old and new numbers before it will change a registration based on engine numbers. Other states may have similar rules.
On this 1938 Chevrolet Suburban, the identification plate is under the hood on the right side of the cowl.
Errors in identification numbers were rampant years ago. For instance, the year of a truck on its paperwork would occasionally be different by a few years from the date code in its identification number. Also, GMC trucks were occasionally called Chevrolets. Minor errors such as these can balloon into major disappointment when it comes time to register a truck.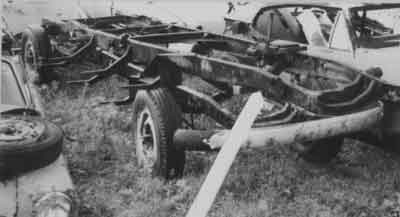 No identification numbers were found on the top frame, a 1954 GMC, or the 1947 Chevy frame on the bottom.
Krause Publications' Standard Catalog of American Light Duty Trucks is an excellent source of identification data. It tells where to find serial numbers on trucks and how to decode them. It also lists engine numbers used each year. Krause Publications' Standard Catalog of Chevrolet Trucks goes into more detail with this marque with a high degree of accuracy.
The 1938 Chevy Suburban I bought last spring did not have legal paperwork. Before New York started issuing titles in 1973, legal ownership of vehicles was defined by a wallet-size registration receipt. The person I bought the Suburban from wrote me a bill of sale. I also received a bill of sale from the executrix of the former owner's estate dated June 1987 and one from a new owner dated December 1990, which did not indicate the name of the buyer. Both of the older documents called the vehicle a 1938 Chevrolet "panel truck" and gave no identification number. There could have been more owners, but names that do not appear on official paperwork can be ignored. The truck had no wallet-size registration, no old license plate, no windshield sticker, and no other evidence of any of these numbers. I believe it was last registered in the 1950s.
Rubbing the identification plate makes the number,
2HC08 9462, more legible.
The number 180 within a circle located
near the front shock mount was the only
mark on the frame of a 1954 GMC (See
arrow on picture above). These are not
enough digits to be a serial number.
I requested information on obtaining legal registration for my truck by mail from two title companies. Classic Automotive Registration (C.A.R.) of Alabama can generate legal paperwork for a vehicle older than 1975, as Alabama was a non-title state until 1975. According to their instructions, I would sell my truck to their agent, and they would sell it back to me for a fee of $130. An application and anti-fraud statement were enclosed. Their information is available on a website on the internet. The other company, Broadway Title Co., also of Alabama, offers a similar service, priced at $140 for pickups and vans and more for larger trucks and high-end cars. Their instructions say to sign as "seller" on the application bill of sale and leave the "buyer" and "date" spaces blank. Their website says, "We provide you with a Letter of Title Law from the State, a Certificate of Registration, and a Notarized Bill of Sale. This is everything your state will need to transfer the vehicle into your state and name." I considered this avenue a last resort to registering my Suburban.
Hoping to save myself some money, I asked the New York Department of Motor Vehicles if there was a mechanism for me to generate the necessary paperwork myself. In New York if there is no other documentation of ownership for non-titled vehicles, the owner can fill out form MV51B, Statement of Ownership, which must be accompanied by a tracing, rubbing, or photo of the vehicle identification number or VIN. It is unnecessary to provide information about the former owner if you have owned the truck for more than a year.
The next step was to locate an ID plate on the truck. On my 1938 Suburban it is right under the hood on the passenger side of the firewall. The number, 2HC08 9462, can be decoded to read: 2, Tarrytown, New York., assembly plant; H, year, 1938; C, half-ton truck chassis; 08 month of assembly, August; 9462, sequence of half-ton chassis assembled in August in Tarrytown plant.
The identification numbers were stamped in the plate and show up on a rubbing. On Chevrolet and GMC trucks up to 1947 the plate is held with two sheet-metal screws and those screws frequently work loose. I have some pre-1947 parts trucks in my collection with no ID plates left. In 1947 GM started using hollow rivets to attach ID plates and these stay put better.
Occasionally law enforcement officials want to see the hidden frame numbers. This causes a problem with pre-1955 GM trucks as there is no frame number. The front pages of Chevrolet and GMC shop manuals show serial numbers of all components that have them, such as the radiator, generator, distributor, engine, starter motor, transmission, and rear axle. Some people say the frame number is a secret, so it is not listed in the shop manual. It is also not listed in the official specifications book meant to be circulated within the GM engineering department. Over the last 30 years, I've sand-blasted and painted many bare frames and have not found a serial number on any pre-1955 GM frame.
The next installment in this series will take us into the engine compartment and drivetrain.
Bob Adler is owner of Adler's Antique
Autos, Stephentown, New York, and
specializes in GM truck restoration.
He can be reached at 518-733-5749.
Email